I'm so excited to be sharing my Willful review with you today, pals, because this is something that even as a financial blogger, I don't think we talk enough about: wills.
Which makes sense, right, because who wants to think about dying?
However, it is literally the only guaranteed thing that's going to happen to all of us, and it'll be way better if we're prepared for it. That's why life insurance and yes, a will, are so important, especially when you have a partner or a family. (I wouldn't be me if I didn't also add "Or a dog.")
That used to mean I'd write a post telling you to find a nice lawyer in your city or town, and just suck it up and spend the $1000 to get a will—but not anymore, thanks to Willful.
So let's dive in, shall we?
A quick note: Willful provided me with a free will to test out the service, and because I loved it, I signed up as an affiliate, so if you buy a will through this article I'll receive a small commission at no cost to you.
Willful Review: You might be wondering…
What is Willful?
Willful is an online will provider. You can create an account with them, walk through the process of creating a will, answer the relevant questions, and it'll prepare a full, printable will (and related documents) that you can sign.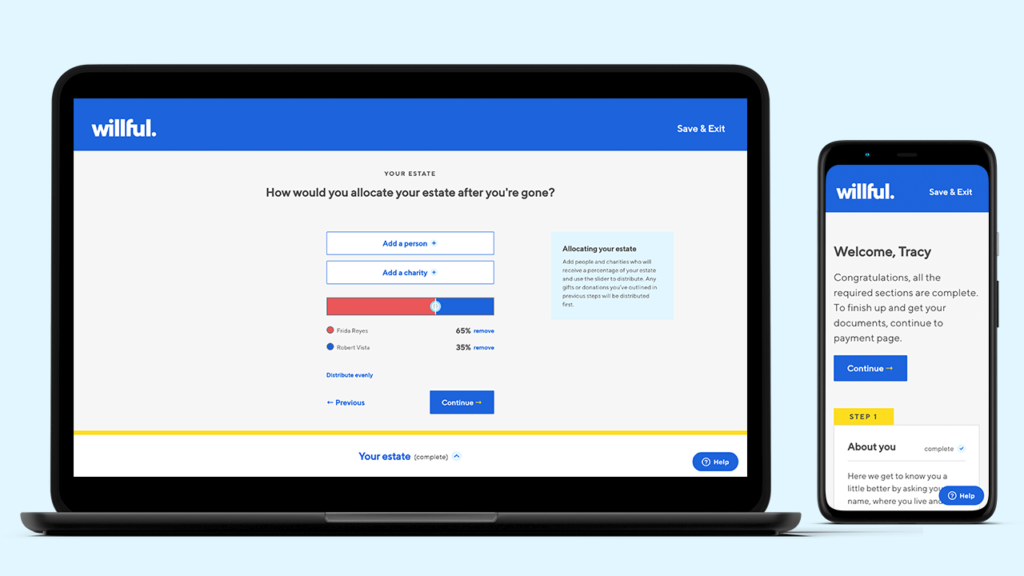 Basically, they help you do that thing you've been putting off forever because it seemed way too hard, by making it really, really easy.
Who can use Willful?
Right now, Willful is available for residents of Ontario, British Columbia, Alberta, Nova Scotia, New Brunswick, Saskatchewan, Manitoba and Quebec. (Though due to provincial legislation, Willful has a separate website for Quebec with different pricing.)
Who should use Willful?
This really boils down to two questions:
Do you need a will, and
Do you need a complicated will?
While there's a case to be made that everyone could use a will and power of attorney documents, especially when it comes to determining things like who would make decisions for your healthcare if you were incapable of doing so yourself, there are some cases where having those things is something you need, not just a nice-to-have.
If you share financial responsibilities with another person (aka you're common-law or married), if you have a child, or both, you need a will.
Like, need-need, not "It would be nice of you to have this handled to save your loved ones some stress in the worst case scenario."
Willful is the easiest way to make a will for most people who need one.
If you're dealing with a heckin' complex legal situation, an in-person lawyer is still your best bet, but for most of us? Willful will give you everything you need, from the comfort of your home, in about 15 minutes.
And if you're sitting there, like me, about to Google "is my legal situation complex", it's probably not. For us, Willful was a great way to make sure we were on the same page, and take care of all of the boring-but-important details ahead of our wedding this summer. It's one less thing we have to think about now, since it's totally handled.
What's the experience like?
In a word: dreamy. In one other word: surprising.
More than half of Canadians don't have a will, and one of the biggest reasons is where do you even get a will?!. As a millennial who will never have to live through getting a will the traditional way (bless you, Willful, for existing) I did some research, and it looks like you'd have to find a lawyer who handles wills and estates, and go to see them in person.
And while I can't say much about the experience of buying a traditional will… I full-on screen recorded the process of getting one through Willful. Step into my lair office, and let's take a look behind the scenes at what it's actually like.
Spoiler alert: it is both dreamy and surprisingly easy to use.
What should you do after you've used Willful?
You can't legally sign a will online, so after you've prepared all of your documents online, you'll need to print them out and sign them in front of two witnesses.
It also turns out (and maybe this was common knowledge, but I Did Not Know It) that the people who are involved in your will can't witness your signature, so you'll need to find someone else to watch you sign your documents.
What's the best part of Willful?
How clear they make every choice you have to make.
When you're talking with your spouse about how you want to be buried (just a casual post-brunch topic of conversation) Willful gives you the exact right amount of information to help make the call. It's not drowning you in legalese, so you can actually understand the important choices, and it does give you enough context to choose.
And the burial is a great example.
Do you know how much a full funeral costs? I didn't, and since my fiance and I aren't particularly religious, we didn't want to opt for a full ceremony (especially not for $15,000). If that is the right choice for you, fantastic—you'll go into it with a clear understanding of the costs. If it's not, Willful explains your other options really clearly.
Plus you can always opt for "Let my family decide," which is a good way to get out of making the choice now if anything feels way too tough. (With Willful, you have unlimited edits to your will, so you can always change it later!)
Total fun sidebar: Did anyone else read the Shopaholic books by Sophie Kinsella?
In one of them, Becky creates a will, and then throughout the book sends her lawyer all these hilarious updates of specific gifts she wants to leave people if she dies—and obviously, because it's a Shopaholic book, at the end you see her updated invoice from the lawyer for all the changes. You can literally add as many silly specific gifts as you want into your will, anytime you want to, with the free updates in Willful.
I just thought that was a super-fun example of how it saves you time and money. (But every time you change your will, you'll need to print it out and sign it again, FYI.)
What's the worst part of Willful?
Genuinely, the part that is The Most Hassle in my case is finding people who aren't in my will to witness my signature.
Which is a pretty minor hassle in the grand scheme of hassles that come with getting a will! But it's the only one Willful didn't streamline, and it's because they literally can't, because the law.
I work from home, and my fiance and our parents are named in the will, so my plan is to bring my legal documents out the next time we go for dinner with friends and get them to witness it for me.
You all think I am joking that no one invites me anywhere, but I am not and this is why.
How much does it cost?
Willful has three pricing tiers, depending on what you need covered. Luckily, it's pretty easy to figure out which tier is the right fit for you, since there's no legalese involved.
The Essentials Plan – $99
This is your basic last will and testament, perfect for a single person who wants to put a plan in place to handle their estate, their children, and their final wishes. If you want to leave $10,000 to the person who agreed to care for your pet in the event of your untimely demise, this will give you the documents you need to make sure that happens.
The Premium Plan – $149
This plan is like the Essentials, plus. You get everything mentioned above, but you also get everything you need to plan for emergencies. If you're ever in a coma, the documents you fill out as part of this plan let you pick who gets to make your medical and financial decisions when you can't, and it also tells them what you want those choices to be. (But pro tip, please actually tell the person you've chosen them, it would be a horrible surprise.)
The Family Plan – $125 per plan for 2-6 plans
You get all of the above, multiplied. You can purchase up to six plans and invite your partner, relatives and even friends to complete their wills. For example, if you buy a family plan of 2 for you and your spouse, both of you get a complete will, and you each get to determine who you want to act on your behalf in an emergency. (And if you're thinking "Well duh, it's my partner," you also have the very-encouraged option to dedicate a secondary person in all relevant cases. You know, in the actual worst case scenario.)
Here's a quick overview of the features, if you're more of a visual learner.
We did the Family Plan, and it was perfect for what we both needed. Plus, with unlimited updates on every plan, we're covered in case we need to update it to add in any new dependents.
You know, like a dog or something. No pressure.
Any hidden fees or tricky parts?
Nope 🙌
Plus, a bonus just for Half Banked readers!
I loved the experience of creating a will with Willful so much, and so strongly believe that it should be easy to create a will if you need one, that I asked them to make it even easier for my readers to get one—and they did. With the discount code Halfbanked you can score 10% off your will with Willful.
Bottom line?
If you have kids, a partner, or you want to save your loved ones a lot of stress and heartache in the worst-case scenario, making a will is something that needs to be on your financial to-do list.
If you're reading this review, you probably knew that already, and you just hadn't gotten around to finding a lawyer and Doing The Thing—but now, The Thing is so easy to do, thanks to Willful. Sure, it's not right for everyone, and there are definitely cases where finding a lawyer to draw up a will for you is very much the right choice. However, if you, like me, have a fairly straightforward situation and just want it in writing? It's a fantastic and easy-to-use option.
Five heckin' stars for Willful, and I highly recommend it.
Willful Review: Best Online Will in Canada?
Price

Ease of Use

Time Required

Comprehensive Docs
Willful Overview
If you have kids, a partner, or you want to save your loved ones a lot of stress and heartache in the worst-case scenario, making a will is something that needs to be on your financial to-do list. Willful is the perfect way to get it done quickly and legally online.